If you are looking for a high-quality and at the same time inexpensive portable compressor then you came to the right place. In this review, we will talk about such tire inflator by VIAIR: Viair (00077) 77P Portable Compressor Kit.
Almost every car owner has heard about the company VIAIR. They have long been on the market and has established itself as one of the industry leaders in the production of portable compressors. The company produces only portable compressors for tire inflation. Their product range includes more than 20 different types of air pumps: from the low-cost entry-level tire inflators which cost starts from $30 to the professional air pumping systems, their cost starts from $200-$300.
So, why is VIAIR 77P Portable Compressor will be interesting to us? What is the difference between VIAIR 77P and 78P? What about Features, advantages and disadvantages? Lets try to answer these questions below.
Features of VIAIR 77P and 78P
Like most similar low-power portable compressors, the power source for this compressor is the cigarette lighter. It is very convenient for quick start of tire inflation and everyday use.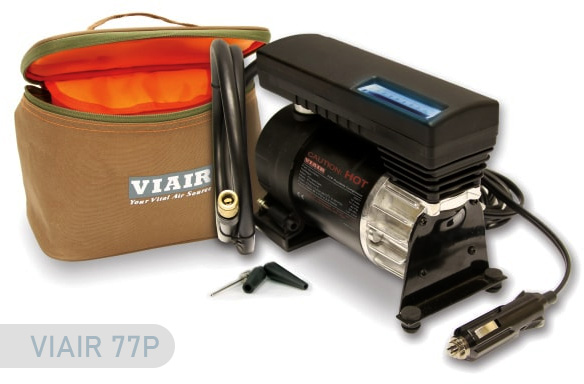 Its maximum working pressure is 80 PSI, and the pumping speed is 1.06CFM Free Flow @ 0 PSI. It will be enough for most cars, sedans and small SUVs with wheels up to 225/60 R18 Size Tires.
Instead of the usual analog pressure gauge, VIAIR 77P Compressor is equipped with a Illuminated Pressure Display on top of the unit. Apparently this is the first attempt of the VIAIR to get closer to installing full-fledged digital pressure gauges on their pumps. Well, a very interesting solution. We would like to note that for today VIAIR equips all their portable compressors with analog pressure gauges.
In contrast to the younger models, this tire inflator already has a LED flashlight for easy connection to valve stem and inflation of tires in the dark.
The length of the power cord is 16.5 ft. and the length of the air hose is 4 ft. The total length will be enough for almost any car. It should be noted that if this total length is not enough for you (for example, you will need to pump up the tires of your camper trailer) then you should extend it with additional air hose. For example, you can use 6 ft. Portable Compressor Air Extension Hose (P/N 00016) by VIAIR. It's suitable for VIAIR Portable Compressors with Twist-On Chuck (70P, 77P, 85P, 87P, and 88P). Or you can use any other similar Air Extension Hose by other manufacturers.
The kit also includes: 3 additional adapters for pumping balls, mattresses and so on; and of course, a very high-quality orange fabric bag.
It's ingress protection rating is IP54. This means some dust can get inside, but it is not enough to stop operation or break it. Splashes of water will not get in and damage the pump.
The Viair 77P Compressor is equipped with Thermal Overload Protection, which will ensure a longer service life. Max. ambient temperature is +158°F and min ambient temperature is -4°F . Unfortunately, there is no over-pumping protection since the pressure gauge is not digital.
VIAIR 77P vs VIAIR 78P – What is the difference?
The answer to this question is actually simple: Almost nothing. VIAIR 77P and VIAIR 78P are absolutely identical compressors in their characteristics. There is only one difference: the way they connect to the tire valve stem.
VIAIR 77P has brass twist-on tire chuck.
VIAIR 78P has plastic press-on tire chuck.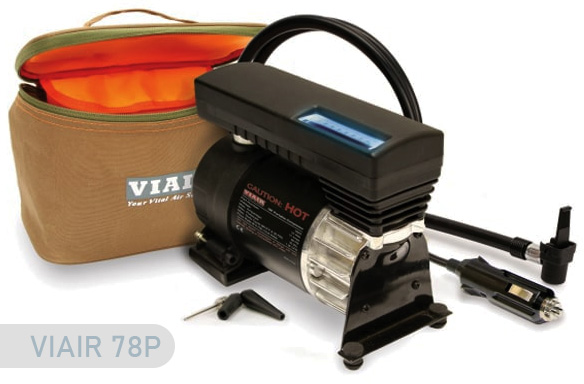 Advantages, What We Like
Viair 77P Very quiet portable compressor. This is confirmed by many owners of this compressor in their reviews about it.
It has Long power cord (its length is 16.5 ft. + 4 ft. air hose = 20.5 ft. total length)
Stylish appearance with an Illuminated Pressure Display on top of the unit.
It has LED Flashlight.
It has Thermal Overload Protection.
Disadvantages. What We don't Like
Some users note that the Viair 77P gets very hot during operation. It is not yet known for certain whether this was a factory defect or is it a design feature..
No over-pumping protection. Which is completely natural for all entry-level portable compressors without an electronic pressure gauge.
The maximum working pressure is 80 PSI. We can't say that this is a strong disadvantage, but the cheaper model VIAIR 70P has a maximum working pressure of 100 PSI.
Specifications

| | |
| --- | --- |
| Model # | 77P(P/N 00077), 78P(P/N 00078) |
| Type | Portable Air Compressor |
| Max Pressure | 80 PSI |
| Duty Cycle | 30 min. @ 30 PSI |
| Voltage | 12 Volt |
| Max. Amp/Watt Draw | 15A/180W |
| Width | 3.6 inches |
| Depth | 7.35 inches |
| Height | 5.4 inches |
| Weight | 5.00 lb |
| Air Hose Length | 4 ft. |
| Power Cord Length | 16.5 ft. |
| Cover | Deluxe Carry Bag |
| Warranty | 1 Year Defect Warranty |
| Cost | from $47.70 |
Fill Rates

| 195/70R14 | Fill Rate |
| --- | --- |
| 20 to 30 PSI | 46 sec. (± 05 sec.) |
| 30 to 40 PSI | 1 min. 00 sec. (± 05 sec.) |
| 225/60R18 | Fill Rate |
| 20 to 30 PSI | 1 min. 15 sec. (± 05 sec.) |
| 30 to 40 PSI | 1 min. 29 sec. (± 05 sec.) |
Overall Viair 77P is a very good Tire Inflator for its price. Yes, We would like to see a little more power but anyway it is quite, stylish, comfortable compressor and will be enough for up to 225/60R18 Size Tires. It has its advantages and disadvantages but overall this Viair 77P (Viair 78P ) can definitely be recommended.
If you already own VIAIR 77P ( or VIAIR 78P ) or just want to buy it you can share your review or ask a question through the form below.