EPAuto Tire Inflator AT-010-1Z is one of the most popular portable air compressor in the U.S. Market for today. Why is it so popular? What advantages and disadvantages does it have? Let's try to answer these questions in this review.
Almost every car owner has faced with a sudden need to urgently pump up the tires of his car. When this happens we are looking for a car repair shop or gas station nearby, or do it yourself. Find nearby car repair shop or gas station is not always possible. Therefore, a tire inflator is the thing that should always be in every car.
And if you are only at the stage of choosing a portable air compressor, then you will come across the fact that the choice on the air compressor market is pretty large. And most often the buyer is simply lost in the choice. In this review we would like to consider one of the popular portable air compressor from the EPAuto brand – EPAuto 12V DC Portable Air Compressor Pump, Digital Tire Inflator.
First of all, AT-010-1Z Tire Inflator popular is due to the fact that it is not expensive. It costs about $35 on Amazon. The manufacturer of this air compressor located in the USA. In addition, the EPAuto brand has established itself on a rather positive side.
EPAuto Address: 20687-2 Amar Rd. #832 Walnut, CA UNITED STATES 91789
Customer Service: 1 (800) 349-0716
E-mail: service@epauto.us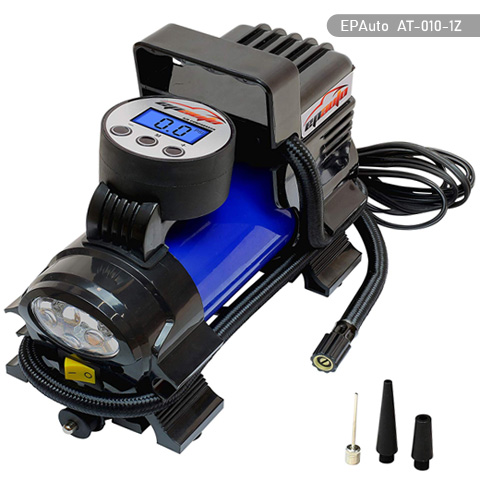 Let's come back to the our air compressor pump. It has a fairly good power of 120 watts. It operates in 12V DC mode (24V or 120V is not supported). The pump inflation speed is 1.06CFM and the maximum working pressure is 70 PSI.
This is more than enough to pump the wheels of a bicycle, motorcycle, sedan or midsize SUV. But this will not be enough for LT, HT and Truck Tires.
Also it has a backlit information display which can show the current values of pressure in 4 modes: PSI, KPA, BAR, KG/CM
A LED flashlight is built into the compressor housing which will be very useful in the dark.
AT-010-1Z Tire Inflator plugs directly into cigarette lighter socket of your vehicle. Please do not try to connect it directly to the car battery.
It has over-pumping protection which will switch off the air supply from the air pump when the set pressure is reached. Please note that EPAuto Tire Inflator AT-010-1Z will not turn off itself at this moment automatically, you should turn it off manually.
When you detach the valve connector, the tire valve would keep releasing air until the connector is fully detached. For example when you set 30 PSI, the tire inflator will keep pumping to 30.5 PSI before it stops which consider the loss will be happening when you detach the valve connector.
This Portable air compressor also has overheat protection, which turns it off when the temperature reaches 167°F.
Additionally, the kit includes: 3 adapters for inflating balls and mattresses, zippered cover and manual.
The power cable has a 15 amps fuse, and there is a backup fuse in the package kit. The power cord length is about 9 ft.
The air supply hose is placed in a PVC braided sleeve, thereby extending its service life. It length is about 2 1/2 ft.
Advantages
Backlit display with 4 modes;
LED Flashlight
Over-pumping Protection
Overheat Protection
Overload Protection (fuse)
3 additional adapters included
Zippered cover
It has great cable management systems; There are notched to hold the air hose around the air compressor with additional slots to hold the 12V wire on the leg base.
Disadvantages
Of course, we could not ignore the disadvantages of this portable air compressor because they affect the purchasing decision.
1. Mounting the compressor hose to valve stem is via a threaded connection. Which creates additional inconvenience during connecting/disconnecting the hose. After tire inflating is completed, you begin disconnecting the hose and at this time the tire will start to lose the air until the hose is completely disconnected. But you can buy Quick-Connect Valve Adaptor for portable air compressor. Like this one: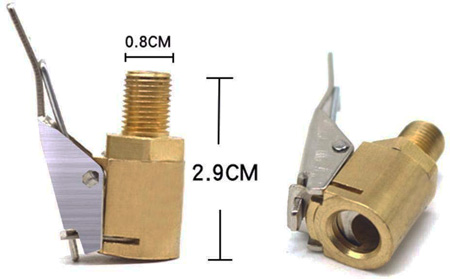 2. Some customers have noted that it is quite noisy. Despite the fact that according to the manufacturer the noise level does not exceed 77dB. They note that with real measurements the noise level can reach 97 dB. But it is possible that they got EPAuto Tire Inflator with some defect. If you experience a similar problem, please leave a comment through form below and contact the manufacturer.
3. AT-010-1Z Tire Inflator Not suitable for LT, HT and Truck Tires.
4. The light on the unit can't be turned off.
5. Pumping may slows down at higher PSI.
Operating Instructions:
Make sure the power switch is at OFF position and the vehicle engine is running.
Remove the dust cap from the tire valve, and then attach the air chuck to the tire valve stem, and screw onto tire's valve stem.
Plug the power cord into a 12V cigarette lighter socket.
Press (M) button to choose the display unit. (4 units available: PSI, KPA, BAR, KG/CM). Press (-) or (+) button to set the desired pressure, and then wait until it stops flashing.
Turn on the power switch. The compressor will automatically stop inflating once the desired pressure is reached.
When the desired pressure is reached, turn OFF the power.
Specifications

| | |
| --- | --- |
| Model # | AT-010-1Z |
| Type | Portable Air Compressor |
| Max Pressure | 70 PSI |
| Voltage | 12 Volt |
| Amperage(min/max) | 10-15 Amps |
| Width | 13.5 inches |
| Depth | 5.6 inches |
| Height | 8.1 inches |
| Weight | 1 lb |
| Cover | Included |
| Warranty | 1 Year Limited Warranty |
| Cost | from $34.97 |
Overall this is pretty good and quality tire inflator for its money which have a lot positive reviews from customers. If you want to buy it you can do this on amazon.
If you already own EPAuto Tire Inflator AT-010-1Z or just want to buy it you can share your review or ask a question through the form below.