Have you ever felt annoyed while using a palm sander because of the strong vibrations that it produces? It feels bad, right? Well, good news for you because Husky 6 in. Low Vibration Palm Sander will make you feel the lowest level of vibrations possible. Unlike other conventional palm sanders, this one has an isolated oil free motor design which significantly reduces vibration by up to 50%. The tool does not need to be lubricated making it a low-maintenance equipment.
Unleash the full power of the Husky H4830 Palm Sander
Husky palm sander H4830 has a built-in regulator that will change its speed depending on the demands of the task that you are doing. This works best for surface preparation and final finish sanding of certain materials such as metals, plastics, composites, fillers, and glass fiber used on autos and recreational vehicles. Automotive repair shops and furniture/wood product manufacturers can take advantage of this Husky palm sander for the finest surface finishes.
A swirl free finish is guaranteed with its orbital action. The standard orbital pattern is 3/16. This pattern makes it an all-around sander. Its maximum sanding speed is at 11,000 rpm making it a very efficient palm sander. The recommended operating pressure is at 90 psi. Air consumption at this level is only 4 CFM. You will be able to use this tool for longer periods of time because of these specifications.
The Husky palm sander H4830 perfectly complements nearly all air compressors, with a preference for utilization alongside high storage tank capacity models. Also, an air compressor with higher CFM rating would be better. It will not suck up a lot of air so you can use it for extended hours. You can do body work on your car, shape body fillers, and do hard wood flooring. You do not need to put oil in the machine before using it. What's good about this palm sander is that it is not too aggressive and not too mild. This balance is necessary for both homeowners and professionals doing large amounts of work.
This palm sander offers comfort with its low weight housing with rubber overmold. Even the unit is light weight (1.81 pounds) so it is very portable and easy to use. Do not attempt to bring it underwater as it is not suitable for underwater use. Not only does this Husky palm sander offer less vibration, it also produces lesser noise because of its internal silencing feature. With less vibration and less noise, you can now work more comfortably even when you are working indoors.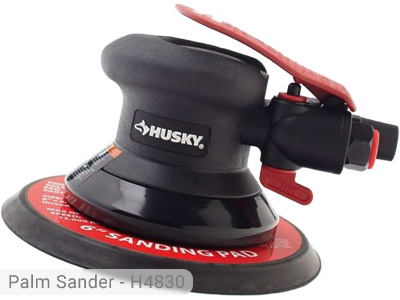 Features and Usage of the Husky Palm Sander H4830
The Husky Palm Sander, model H4830, is a versatile and efficient air-powered tool designed for professionals who require high-quality surface preparation and finishing. Here are its features and usage details:
Features
Industrial Standards. The Husky H4830 Palm Sander is built to meet industrial standards, guaranteeing durability, high performance, minimized noise, and a prolonged tool life.
Low Vibration Design: The sander features an isolated oil-free motor design that reduces vibration by up to 50% compared to conventional palm sanders. This design minimizes user fatigue and enhances comfort during extended use.
Rubberized Overmold. The sander's housing features a rubberized overmold that enhances user comfort and grip, enabling better control over the tool.
Internal Silencing: Built-in internal silencing technology significantly reduces the noise level produced during operation, creating a more comfortable working environment.
Built-in Air Regulator: The sander comes with a built-in air regulator, allowing you to adjust the tool's speed according to the specific job requirements. This feature provides versatility for different sanding tasks.
Orbital Action: The sander employs orbital action for sanding, which ensures a smooth, swirl-free finish on various surfaces, making it particularly favored in auto repair shops and furniture/wood product manufacturing.
Wide Range of Applications. The sander is crafted to prepare surfaces and provide final finish sanding for metals, plastics, composites, fillers, and glass fiber. It's suitable for use on automobiles and recreational vehicles.
High Speed: The sander operates at a maximum speed of 11,000 RPM, allowing for efficient material removal and rapid sanding.
Low Weight: Weighing only 1.81 lbs (approximately 0.82 kg), the sander's lightweight design reduces user fatigue and facilitates prolonged use.
Usage
Surface Preparation: The Husky H4830 Palm Sander is ideal for preparing surfaces before applying paint, varnish, or other finishes. It effectively removes old paint, rust, and imperfections, creating a smooth substrate for coatings.
Final Finish Sanding: The orbital action of the sander produces a high-quality finish, making it suitable for final sanding passes. It's particularly valuable in achieving a flawless surface on woodworking projects, automotive bodywork, and fiberglass applications.
Auto Repair and Woodworking: The sander's smooth swirl-free finish makes it a preferred tool in auto repair shops for tasks like smoothing body filler and preparing surfaces for painting. In woodworking, it's useful for achieving fine finishes on furniture and wooden products.
Adjustable Speed: The built-in air regulator allows you to customize the tool's speed to match the demands of different materials and tasks. This adaptability enhances precision and control.
Reduced Vibration and Noise: The low vibration and noise features of the sander improve user comfort and reduce the overall impact of tool operation.
Professional and Industrial Use: With its industrial-grade construction, this palm sander is designed for heavy-duty professional use, making it suitable for workshops, manufacturing settings, and auto body shops.
The Husky H4830 Palm Sander offers a combination of features such as low vibration, adjustable speed, and a smooth finish, making it a valuable tool for professionals seeking high-quality results in surface preparation and finishing tasks.
Specifications
| | |
| --- | --- |
| Model # | H4830 |
| Air Tool Type | Disc Sander |
| Weight | 1.81 lb |
| Type | Surface Prep |
| Recommended operating pressure | 90 PSI |
| Air consumption | 4.0 CFM |
| Air Inlet Size | 0.25 inches |
| Max sanding speed | 11000 |
| Width | 5.83 inches |
| Length | 6.85 inches |
| Height | 4.25 inches |
| Warranty | 2 Year |
| Cost | from $99.98 |
Husky 6 in. Low Vibration Palm Sander you can buy at $89.98. The low cost is more than enough to convince you to purchase this unit and start doing your projects immediately. The unique features of this model lets you realize that the best equipment do not necessarily have to be expensive. For people who are working on a tight budget, this would be a great investment. This powerful tool is another masterpiece of Husky. Try it now!
If you already own Husky H4830 model or just want to buy it, feel free to share your review or ask a question through the form below.