The single hard hitting hammer in your impact wrench is powerful enough to complete your long list of tasks. But imagine the power when a wrench has a twin hammer? Yes, Husky 1/2 in. Impact Wrench H4455 650 ft.-lbs. has a hard hitting twin hammer that can produce a maximum torque of 650 ft.-lbs. Because of this, Husky impact wrench proves to be very reliable and efficient.
This unit has an output of 1,050 impacts per minute. It has a maximum speed of 7500 rpm. With this rate, you can perform different kinds of bolting projects in less than an hour. The recommended operating pressure is at 90 psi. It has a higher air consumption rate (5.0 CFM) than other air tools but it is expected because of its twin hammer.
Another distinct feature of this air tool is its internal silencing mechanism which significantly lessens the noise that the tool produces. No need to worry about disturbing the entire neighbourhood. The built-in forward/reverse power management system of the wrench makes the tool easier to control depending on the type of job at hand.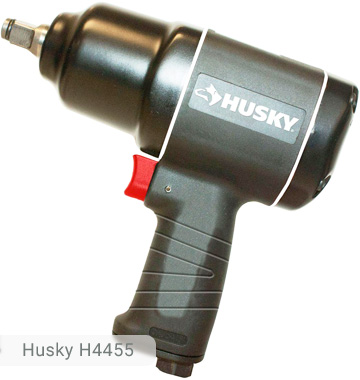 The speed and power of the tool can match certain applications such as removing and installing fasteners during auto/recreational vehicle/garden-agricultural equipment/machinery service and repair. It can be used to repair motorcycles without much trouble. Other applications include struts, motor mounts, and tire rotations. With the impact wrench's included punches, you can effortlessly remove and reinstall lug nuts, achieving the precise level of tightness needed for the task.
Husky impact wrench H4455 has a low weight composite housing. Because of this, the weight of the tool is also reduced. It weighs only 4.4 lbs. You will feel that the tool is well-balanced upon using it for the first time. For a secure socket retention, the wrench features a ring type retainer. It also has 3 variable power settings making it convenient for the user to make the tool more appropriate with the job. The unit provides a comfortable grip that will let you do your projects with ease.
Features and Usage of the Husky Impact Wrench H4455
Features
Torque Output: The standout feature of the Husky H4455 is its impressive torque output of 650 ft. lbs. This level of torque makes it suitable for a wide range of tasks, from removing stubborn lug nuts on vehicles to working with large bolts in construction and mechanical applications.
1/2-Inch Drive Size: The 1/2-inch drive size is a standard in the industry and offers compatibility with a variety of sockets and extensions. This allows users to work on a range of fasteners of different sizes.
Variable Speed Trigger: The wrench typically features a variable speed trigger, allowing for precise control over the amount of torque applied. This is especially useful when working on delicate or sensitive components where too much force could cause damage.
Ergonomic Design. Husky tools often stand out for their ergonomic designs, and it's likely that the H4455 is no exception in this regard. A comfortable grip and well-balanced design can reduce user fatigue during prolonged use.
Forward and Reverse Operation: The ability to switch between forward and reverse modes enables users to both tighten and loosen fasteners efficiently.
Durable Construction. Similar to other impact tools, it's probable that Husky engineered the H4455 to withstand the rigors of heavy usage. Its construction materials contribute to its durability and longevity.
Usage Husky Impact Wrench H4455
Automotive Maintenance. One of the primary applications of this impact wrench is in automotive maintenance. It can effortlessly remove lug nuts from wheels during tire changes or other repair tasks.
Construction Projects. In construction settings, users can utilize the Husky H4455 to drive and remove substantial bolts, screws, and fasteners. It's valuable for tasks that require a high amount of torque.
Mechanical Repairs. Whether you're working on machinery or equipment, this impact wrench can simplify tasks like disassembly, making it a valuable addition to a mechanic's toolkit.
Assembly and Disassembly: The wrench can expedite assembly processes by rapidly tightening large bolts and nuts. It's equally useful for disassembling components for repairs or maintenance.
DIY Projects. For DIY enthusiasts, the wrench can be an asset when tackling projects around the house or in the garage. From building structures to repairing appliances, its high torque output saves time and effort.
Professional Trades. Professionals in various trades, such as plumbing, HVAC, and electrical work, might find this impact wrench useful for certain tasks that involve securing or removing large fixtures.
Always adhere to safety guidelines when using the impact wrench, ensuring you wear the appropriate protective gear. Additionally, make sure to match the tool's torque settings to the specific requirements of the task at hand. It's important to avoid over-tightening, which could lead to damaged fasteners or components.
Specifications
| | |
| --- | --- |
| Model # | H4455 |
| Air Tool Type | Impact Wrench |
| Weight | 4.4 lb |
| Type | Air Tool, Bolting |
| Recommended operating pressure | 90 PSI |
| Air consumption | 5.0 CFM |
| Air Inlet Size | 0.25 inches |
| Impacts Per Minute | 1050 |
| Max torque | 650 ft.-lb. |
| Max speed | 7500 rpm |
| Drive Size | 1/2 in |
| Width | 2.77 inches |
| Length | 7.36 inches |
| Height | 7.66 inches |
| Warranty | 2 Year |
| Cost | from $79.98 |
An air compressor with a large tank capacity is recommended. This will allow it to power the Husky wrench for a long time. Using lower capacity options, such as a 12-gallon air compressor, will still provide full power to the tool. However, this power will be sustained for a limited time only. Make sure to read the manual for a more detailed instruction regarding this matter.
Husky 1/2 in Impact Wrench 650 ft.-lbs. you can purchase for $79.98. The quality of work that it produces is great considering its cheap price. It works very smoothly and quietly that you will not get tired of using it. It is impressively faster than other models in the same class. With Husky, it is not difficult to work like a professional. You should definitely hurry up and try this now.
If you already own Husky H4455 model or just want to buy it, feel free to share your review or ask a question through the form below.