Compressors have become an indispensable tool for both professionals and avid DIY enthusiasts. They power a wide array of pneumatic tools, ranging from nail guns and paint sprayers to air ratchets. Allow me to introduce you to Emax Air Compressor, a renowned brand in the industry that offers a diverse range of models to cater to various requirements.
Emax was established in 1977 and has emerged as a leading manufacturer of air compressors and associated accessories. The company, based in Ohio, United States, boasts a state-of-the-art manufacturing facility where they meticulously design, engineer, and assemble their air compressors and tools. Their team comprises skilled engineers, technicians, and designers who are dedicated to crafting top-notch products that meet the demands of professionals and DIY enthusiasts. Emax ensures the reliability, durability and efficiency of its offerings by using advanced technology and processes. Furthermore, they source premium components and materials from trusted suppliers to guarantee exceptional quality.
Emax presents a diverse lineup of air compressors, including stationary, portable, and oil-free models. These compressors come in various sizes and power levels, making them suitable for a wide range of applications, from home workshops to industrial settings.
In addition to air compressors, Emax offers an array of accessories, such as hoses, filters, and regulators. The company prioritizes innovation and constantly develops new products to keep up with the evolving needs of their customers.
Overall, Emax has earned a reputation as a trusted and respected brand in the air compressor industry. They are renowned for producing high-quality, long-lasting products. Now, let's delve deeper into some of the models and accessories offered by Emax, accompanied by reviews from both customers and experts.
Emax Air Compressor Models and Reviews
Emax provides a variety of air compressor models tailored to different needs and applications. In this section, let's closely examine some of the most popular Emax air compressor models, highlighting their key features and specifications.
Hulk Power Tools, a sub-brand of Emax, specializes in air compressors and pneumatic tools designed for heavy-duty applications. The Hulk series encompasses both stationary and portable air compressors, as well as an assortment of air tools, including impact wrenches, ratchets, and drills.
The Hulk series is renowned for its robust construction, high-performance capabilities, and user-friendly design. These compressors and tools are crafted to deliver the power and reliability necessary for tackling even the most demanding jobs.
Similar to Emax, Hulk Power Tools places a strong emphasis on innovation and continuously introduces new products to cater to their customers' evolving requirements. With their unwavering commitment to quality and customer satisfaction, Hulk Power Tools has garnered the trust of professionals and DIY enthusiasts alike.
Allow me to highlight a few notable models from the Hulk series, along with their features and customer reviews:
Hulk Power Portable Air Compressor, 1.5 HP, 5 Gallon, Hulk Silent Air-HP15P005SS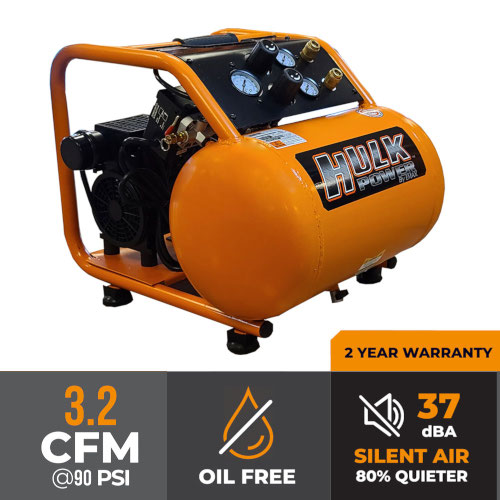 Designed for light-duty applications, this portable air compressor boasts a 1.5 HP motor, a 5-gallon tank, and a silent air system that reduces noise levels to a mere 58 decibels.

Users have overwhelmingly praised this compressor for its quiet operation and powerful performance. Its compact size and user-friendly design make it an ideal choice for home garages and light-duty tasks.
Hulk Power Portable Air Compressor, 2 HP, 20 Gallon, Hulk Silent Air-HP02P020SS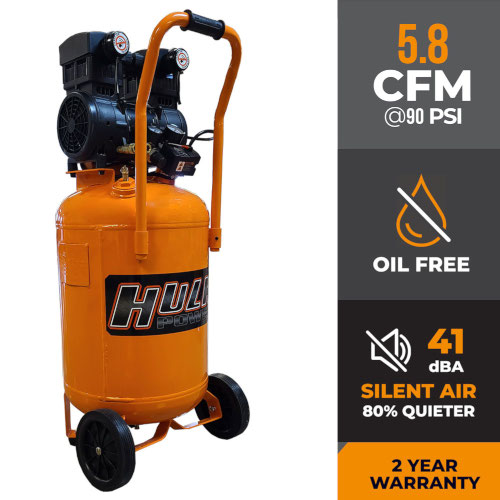 Stepping up the power level, this portable air compressor is geared towards medium-duty applications. It features a 2 HP motor, a 20-gallon tank, and a silent air system that maintains noise levels at only 61 decibels.

Users in need of a compressor capable of handling medium-duty tasks, such as automotive repairs and light industrial work, have praised this model for its quiet operation, portability, and ease of use.
Hulk Silent Air 5HP 2 stage 80 Gallon Air Compressor – HI05V080Y1S / HS05V080Y1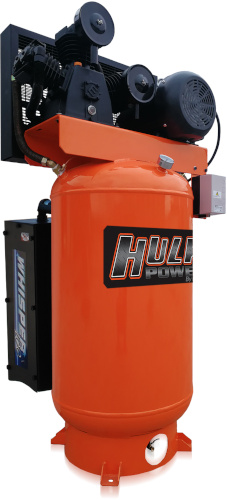 Catering to heavy-duty applications, this stationary air compressor boasts a 5 HP motor, a two-stage pump, and an 80-gallon vertical tank. It incorporates a silent air system that ensures noise levels remain at a mere 70 decibels.

Professionals requiring a long-lasting, powerful compressor have lauded this model for its robust motor, large tank capacity, and silent air system, which creates a more pleasant work environment.
EMAX E450 Series – 18 HP Gas Air Compressor, 2 Stage, V4, 30 Gallon, Truck Mount, EGES1830ST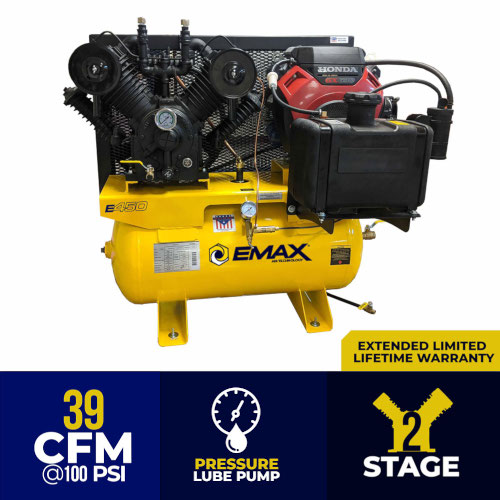 Designed for heavy-duty use in remote locations or construction sites, this gas-powered air compressor boasts an 18 HP motor, a two-stage pump, and a 30-gallon tank.

Its portable nature makes it a preferred choice among users who require a powerful compressor capable of handling heavy-duty tasks. The high-quality materials and construction of this compressor, coupled with its truck mount feature for easy transportation, have garnered positive feedback.
EMAX E450 25 HP Air Compressor, 3 Phase, 120 Gallon, Horizontal, Emax Industrial Plus-EP25H120V3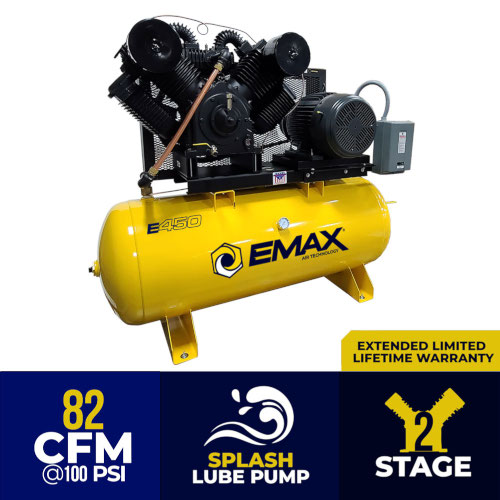 Geared towards high-volume applications, this stationary air compressor packs a punch with its 25 HP motor, two-stage pump, and a 120-gallon horizontal tank.

Built with top-quality materials, this compressor is designed to consistently deliver reliable performance over the long term. Users appreciate its large tank capacity, two-stage pump, and horizontal design, which facilitates easy installation in various workspaces.
Emax Air Tools
In addition to producing high-quality air compressors, Emax offers an extensive range of air tools that complement their compressors. Let's take a look at some of the popular Emax air tools:
Impact Wrenches – Emax offers impact wrenches in various sizes and torque outputs, catering to a wide range of applications, from automotive repairs to heavy equipment maintenance.
Air Ratchets – Emax air ratchets are renowned for their precision and ease of use, making them ideal for tight spaces and delicate work.
Air Hammers – Powerful and versatile, Emax air hammers are designed for a variety of tasks, including chipping, cutting, and shaping metal.
Air Sanders – Emax air sanders excel in precision sanding and polishing, making them a go-to choice for automotive bodywork and woodworking.
Spray Guns – Emax spray guns are popular among professionals and DIY enthusiasts due to their precision and versatility, allowing users to achieve a range of finishes on different surfaces.
All Emax air tools are crafted with the same dedication to quality and durability as their compressors, ensuring they can handle tough tasks and deliver consistent, reliable performance over time.
Emax Air Compressor Accessories
In addition to their wide range of air compressors and air tools, Emax offers a plethora of accessories designed to complement their products and enhance performance. Let's explore some of the popular Emax air compressor accessories:
Air Hoses. Emax provides a variety of high-quality air hoses in different lengths and materials to suit various applications. Choosing the appropriate air hose is crucial to ensure optimal performance and safety.
Air Filters – Emax air filters are meticulously designed to remove moisture, oil, and other contaminants from compressed air, ensuring clean and dry air reaches your tools. This aids in extending the lifespan of your tools and enhancing their performance.
Regulators -Emax regulators are used to control the pressure of compressed air, ensuring it remains consistent and accurate for the intended application. It's important to select a regulator that is compatible with your compressor and tools for optimal performance.
Lubricants – Emax offers a range of high-quality lubricants specifically formulated for their compressors and air tools. Using the correct lubricant can help prolong the life of your equipment and enhance its performance.
Choosing the right accessories for your Emax air compressor is essential for achieving optimal performance and safety. Utilizing incompatible accessories can lead to decreased performance, premature wear and tear, and potential damage to your equipment or tools. It's vital to consult the manufacturer's specifications and recommendations when selecting accessories for your compressor to ensure compatibility with your equipment and intended applications.
Common Problems and Troubleshooting Solutions, Warranty Information, and Customer Support Options
While Emax air compressors are renowned for their reliability and durability, occasional problems may arise. Here are some common problems that Emax air compressor owners may encounter, along with troubleshooting solutions:
Air leaks: If you notice air leaking from your compressor, check the hoses, fittings, and connections for leaks. Tighten any loose connections or replace damaged hoses or fittings.
Low pressure:If your compressor isn't producing sufficient pressure, inspect the air filter for clogs or debris. Clean or replace the filter as necessary. Additionally, ensure that the regulator is set to the correct pressure and that the tank has an adequate air supply.
Overheating: In the event of your compressor overheating. Check the oil level and ensure that the cooling fins are clean and free of debris. Also, avoid continuous usage for extended periods, as it can lead to overheating.
If you're unable to resolve the problem on your own, contact Emax customer support for assistance. Emax offers a comprehensive warranty on their products, with the duration varying depending on the model and type of compressor. Most Emax air compressors come with a limited warranty of 5 years or more, covering defects in materials and workmanship. Some models may even offer extended warranties or additional coverage for specific components.
Emax provides a range of customer support options. Phone and email support, as well as an online help center and knowledge base. The company employs experienced technicians and support staff dedicated to assisting customers with any questions or issues. Whether you require help troubleshooting a problem or need assistance with warranty claims or repairs, Emax is committed to providing excellent customer support to help you maximize the benefits of your air compressor.
In conclusion, Emax air compressors are reliable and efficient choices for professionals and DIY enthusiasts. With a diverse range of models, sub-brands, and a commitment to quality, Emax offers air compressors suitable for nearly any application. Whether you need a portable compressor for on-the-go jobs or a high-capacity industrial compressor for heavy-duty work, Emax has a solution.
Emax air compressors are known for their quality, durability, and features such as low noise levels, efficient motors, and robust components. While occasional problems may arise, Emax's comprehensive warranties and excellent customer support ensure you receive the most from your investment.
If you're in the market for an air compressor, consider Emax. With their wide range of high-quality compressors, accessories, and customer support options, you're sure to find the right product for your needs.