Air compressors should always be partnered with Husky air compressor oil. Although many people do not see its value, oil is very beneficial to air compressors. Its main use is for lubrication. For the entire compressor system to run smoothly and effectively, the different motors, cylinders, and bearings of the system should be lubricated.
In simple terms, it can be compared to taking a bath. To be able to function well, people need to take a splash of water to feel refreshed and energized.
How Air Compressor Oil Works
Husky air compressor oil does so much more than lubrication. It is also designed to reduce the build-up of carbon in compressor valves. This results to a longer compressor life which is one of the goals of an air compressor and oil relationship. The oil has the right mix of chemicals that assists in ensuring the proper functioning of compressors. A 16 oz. Husky air compressor oil is a 30-weight oil that is viscous enough so as not to interfere with the movement of the cylinders and bearings in the system.
Unlike detergent-type oil used for car engines, Husky oil is non-detergent so that even with the absence of air compressor oil filter, contaminates and particles will settle at the bottom. The result of partnering oil with an air compressor is a more efficient tool compared to a simple air compressor. Note that an air compressor oil is different from the air tool oil itself.
Types of Oil Offered by Husky
Although an air compressor oil is basically similar to on ordinary motor oil, some people believe that it is still more appropriate to use oil that are mainly for air compressors. Husky offers two main types of oil: synthetic and standard.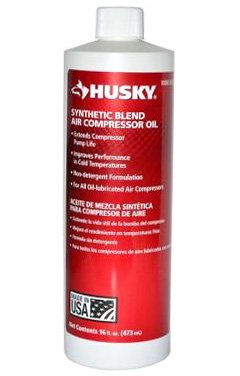 Husky synthetic oil usually comes in a 16 oz. bottle. It has a unique non-detergent formulation that that is very different from those that have traditional minerals as base. With this kind of oil mixture, friction which causes wear and tear of pumps and other parts is significantly reduced.
Husky's synthetic blend of oil is made specifically for air compressors. If you are living in a place where the temperature reaches 35 degrees or below, it is better to use this one. It is also shipped in a 16 oz. bottle.
The standard oil of Husky includes the 20-weight or the recommended 30-weight oil. It is also non-detergent. It assists in cooling the pump and removing heat when in use. The components are basically the same with synthetic oil except for a few chemicals. If you want an increased performance, then the synthetic oil is better for you.
How to Change Air Compressor Oil
Like any other tool, air compressors also need maintenance. Part of this is changing the oil that you are using. It is very easy to change oil. For Husky air compressor oil, the most basic rule is to change it every three months. For new compressors, you need to change the oil after first 50 hours. Always monitor the oil level through the oil level sight glass. Do not wait for your oil to drop below the red line. If you use your air compressor several times a week, the more that you need to change it regularly.
Before changing oil, allow your air compressor to run first so that the oil will have a warm-up period. Next, unplug the unit. Hold a pan under the end of the pump. Use the pan to collect the oil upon removing the oil drain plug. After the collection, replace the plug. Finally, replace the oil tank with the new oil. Again, although they almost have the same contents, it is not recommended to change Husky compressor oil with motor oil. To prevent ending up with a messy garage, you may also tape a funnel below the oil drain so that the oil being collected will drain through it. Since Husky compressor oil is not very viscous, you may also lift the end of the handle to increase the discharge of oil.
Husky Alternatives
In cases of emergency where there is no supply of Husky compressor oil, you may use certain motor oil that can replace Husky for a certain period of time until it becomes available. The right oil can greatly extend the life of your air compressor.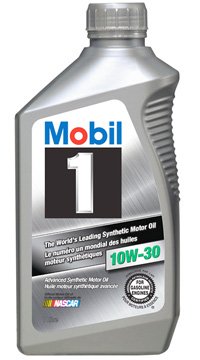 An example of an ideal alternative is Mobil 1 10w30 motor oil. It is classified under the synthetic type. It is designed to power several kinds of engines by providing an excellent overall lubrication. Unlike Husky air compressor oil that considered as strait weight oil, Mobil's oil is multi-grade. Being a multi-grade oil, it has additives which can prevent the alteration of the viscosity of the oil during periods of extreme temperature. It also does not make its own contaminants from the heat. Although there are other cheaper alternatives such as that of Castrol, purchasing a Mobil 1 10w30 motor oil is worth your money because you can really see the difference in the viscosity compared to others. If you are in a low-temperature geographic location, Mobil's motor oil is perfect for you because it can quickly start engines during cold weather.
Another alternative is Amsoil's PC Compressor oil (SAE 40, ISO 100). It is also synthetic which can operate at cool temperatures. This oil is not expensive considering the protection that it gives from wear and tear. Unlike other brands, Amsoil also allows a long draining time interval for those who do not have the luxury of time to change oil and drain regularly.
Recommendations
If you need an air compressor oil that has all the right qualities, choose Husky compressor oil. One of the reasons why most Husky air compressors function efficiently is because they are well-lubricated with oil. It is very cheap and affordable. A standard 16 oz. bottle only costs $2.49 while a synthetic blend costs $4.99. The oil can reduce noise during the operation of the air compressor because there is lesser friction. Not only will the oil improve the performance of your air compressor, it will also ensure that it will last a lifetime. Hurry and buy now!