VIAIR never ceases to amaze and delight us with new products. Not long ago, they expanded their line of low-cost tire inflators and released quite a stylish sport compact compressor. The model is called VIAIR 75P Portable Compressor.
In general, its specifications are similar to the previous VIAIR 74P Portable Compressor, but its case stands out from all other portable compressors.
VIAIR decided to bet on the product appearance of the VIAIR 75P portable compressor. After all, the not very pleasant product appearance can push us away from buying a good tire inflator.
They decided to combine the cover with the compressor body and make them one whole. The case is made of durable steel and covered with high-quality beige paint. It also comes with a durable handle for a comfortable hold. There are special holes in the upper part of the tire inflator which are designed for convenient storage of additional inflation tips.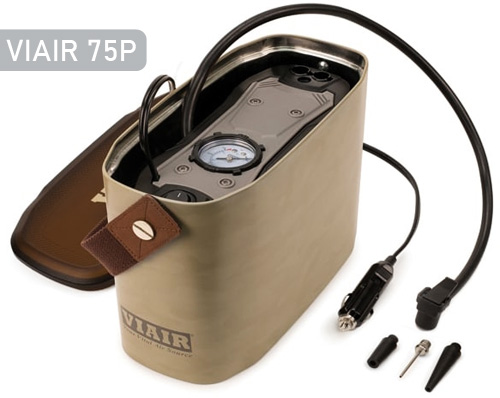 Features, Scope, Pros and Cons
VIAIR 75P Portable Compressor is an entry-level portable air compressor that can meet the needs of most of its customers. It is perfect for pumping balls and mattresses, bicycle tires, motorcycles, medium-sized sedans and compact SUVs with wheel sizes up to 225/60 R18.
The power source for it is the cigarette lighter's power port. This tire inflator has a max amp draw of 10A/120W.
Its maximum working pressure is 50 PSI. Yes it is not too much. But this is more than enough for most cars. Filling speed from 20 psi to 30 psi takes about 1 minute.
This tire inflator is equipped with an analog 60psi pressure gauge.
The power cord length is 10 ft. and air hose length is 2 ft.. That would be enough for any needs.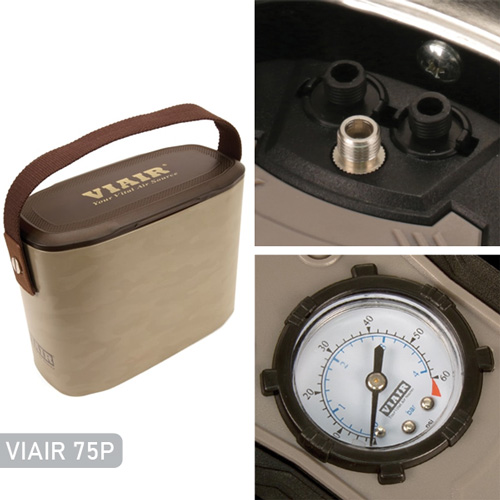 Benefits – What We Like
The compressor is mounted in a protective metal case. This design is very convenient during use and storage. Moreover, it is additionally protects the compressor itself from damage.
The kit includes 3 pc. Inflation Tips for inflating balls, mattresses and any other things.
Press-On Tire Chuck. Incredibly handy thing. It greatly facilitates the connection/disconnection to the tire's valve stem, which in turn significantly speeds up the tire inflation process.
Pretty responsive customer service. They try to replace the damaged compressor or solve the problem with the maximum benefit for the buyer in case of any damage during transportation or use.
The Manufacturer's Warranty on the VIAIR 75P is 1 year.
Disadvantages – What we don't like
There is no over-pumping protection. Unfortunately, like most portable compressors with an analog pressure gauge, this model does not have over-pumping protection. Therefore, you need to monitor the pressure gauge reading when using it.
Low max working pressure. As a result, it is difficult to use it with large wheel sizes. But it is not intended for this, just keep that in mind.
Painted metal case. This thing is the vulnerability of this compressor. Despite the fact that it is made of metal and perfectly protects the compressor itself, the case will constantly receive scratches. And since there is always something exist in our trunk and it is not always fixed, therefore this metal case will get scratches even there.
Specifications

| | |
| --- | --- |
| Model # | 75P(P/N 00075) |
| Type | Portable Air Compressor |
| Max Pressure | 50 PSI |
| Voltage | 12 Volt |
| Max. Amp/Watt Draw | 10A/120W |
| Width | 4.33 inches |
| Depth | 9.64 inches |
| Height | 9.68 inches |
| Weight | 4.44 lb |
| Air Hose Length | 2 ft. |
| Power Cord Length | 10 ft. |
| Cover | Integrated Metal Storage Case |
| Warranty | 1 Year Defect Warranty |
| Cost | from $34.97 |
Fill Rates

| 195/70R14 | Fill Rate |
| --- | --- |
| 20 to 30 PSI | 1 min. 00 sec. (± 05 sec.) |
| 30 to 40 PSI | 1 min. 13 sec. (± 05 sec.) |
| 225/60R18 | Fill Rate |
| 20 to 30 PSI | 1 min. 21 sec. (± 05 sec.) |
| 30 to 40 PSI | 1 min. 21 sec. (± 05 sec.) |
Overall, VIAIR 75P Portable Compressor is a pretty good tire inflator. It has good specs to be in demand in its segment and its appearance will appeal to many car owners. So if you looking stylish and quality tire inflator than this model is definitely worth your attention.
If you already own VIAIR 75P or just want to buy it you can share your review or ask a question through the form below.