Have you ever heard of an inflator that has a pressure gauge which glows in the dark? Yes, this is one of the features that makes Husky 120 Volt inflator unique.
The analogue pressure gauge was designed to allow users to see the reading even in the dark. When you have a flat tire on the middle of a dark street, you can still use the machine to inflate your tire because of this glow-in-the-dark feature as long you have an outlet.
Aside from vehicle tires, the inflator can also be used for bicycle tires, air mattresses, and sports equipment. In fact, the tool already comes with a mattress nozzle, sports needle, and Presta valve adapter for your convenience. You get all these in a single package worth $29.98 in Home Depot. Other small things that can be inflated by this machine include pool toys, garden or lawn tires, golf cart tires, and many more.
Because it is a 120-Volt inflator, it is equipped with a fast and powerful direct-drive motor. Just plug it into a standard 120-Volt outlet and you are good to go. It runs quietly which is beneficial for consumers who prefer to work indoors. The maximum pressure of Husky 120 Volt inflator is 130 PSI. This is not strong enough for other heavier tasks but is very much appropriate for light and simple tasks such as the aforementioned. It can inflate even a tire of a small truck but it would take some time. However, for smaller objects such as basketball and football, the pumps are excellent.
The inflator is very portable so you can carry it with you easily. It even has a handle which adds to its portability. With an assembled height of only 40 inches, you can put it in your car compartment or squeeze it to your workbench with all other equipment. It is a lot more compact than other models.
The length of the power cord is around 24 inches which is enough to keep you at a distance from the outlet to the object that you will inflate. The length of the hose is 28 inches which is long enough for garage or indoor use. The hose is made of rubber so you need to be very careful as it is relatively prone to leaks. Make sure that you check this part and have it replaced as necessary. Also, the connection between the air hose and compressor must be carefully handled because it can be easily damaged.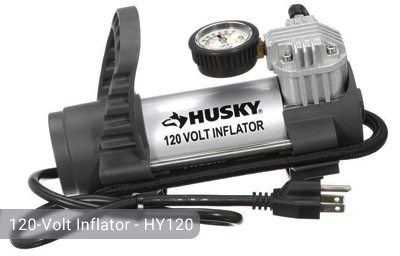 Specifications

| | |
| --- | --- |
| Model # | HY120 |
| Hose Length | 28 inches |
| Type | Portable Air Compressor |
| Voltage | 120 Volt |
| Width | 8.976 inches |
| Depth | 3.858 inches |
| Height | 6.22 inches |
| Warranty | 2 Year Limited Warranty |
| Cost | from $29.98 |
As mentioned in the warning sticker of the product, it can heat up to a certain level which can damage the air hose. When using the inflator, check its temperature once in a while. Also, check the pressure level which can be easily viewed through the pressure gauge.
 The machine is very easy to use with on/off switch that makes it quick to control. If you want a sturdy, lightweight, and powerful inflator for domestic purpose, Husky 120 Volt inflator is perfect for you.
If you already own this 120-Volt inflator or just want to buy it you can share your review or ask a question through the form below.