If you are looking for one of the most powerful impact wrench then Husky 3/4 in. Impact Wrench , H4490 model will be the best choice. This enormous tool comes in a 3/4 inches size impact wrench, rotation speed is limited by settings, which provides you control even without looking at it! It is agile and easy to use, thanks to its handle and unfussy design.
The new Husky 3/4 inches Impact Wrench features a more powerful and longer life tool for industrial standard works. It produces an unprecedented 1400 ft. lb. of torque that helps in hard-hitting twin hammer and low weight composite housing. This wrench model is developed with an internal silencer that reduces tool noise when in use.
From the moment you pick up the Husky H4490, you can feel the build quality and durability. The construction feels robust, designed to withstand the rigors of professional use and demanding DIY projects. The ergonomic design ensures a comfortable grip, reducing fatigue during extended periods of use.
It has a built in option of Forward and Reverse power management system that allowing the user to match the power and speed of the tool to the job. This tool is great in removing at the same time installing of fasteners in truck, machinery service, agricultural equipment and repair. It is used for industrial and mechanical works particularly in loosing very tight fasteners found on trucks, structural steel or agricultural equipment.
Husky Impact wrench H4490 model is a color black design tool and an air-powered power source. The total weight of the tool is 7.67 lbs and it is almost twice as heavy than H4480 model. The case cone is made of aluminum. It is designed as garage auto mechanic air tool and to deliver high torque in the output.
One of the standout features of the Husky H4490 is its adjustable torque settings. This level of control is incredibly valuable, allowing you to fine-tune the power according to the specific task at hand. Whether you need a gentle touch or maximum force, this impact wrench has you covered.
Noise and vibration are common concerns with impact wrenches, especially in prolonged use. The Husky H4490 addresses this with thoughtful design considerations that minimize vibrations and muffle excessive noise, creating a more pleasant working environment.
The hammer mechanism of this tool is allowed to spin freely and does not stay locked. It is a pistol grip form and a "D" form handle inline, wherein it has an enclosed handle at the back of the tool for the user to hold. This kind of design prevents user or operator from common injury like slamming ones knuckles when the fastener tightens down and when the torque suddenly increases. It is equipped with a quiet and powerful drive.
Specifications

| | |
| --- | --- |
| Model # | H4490 |
| Air Tool Type | Impact Wrench |
| Weight |  7.67 lb |
| Type | Power Tool, Bolting |
| Recommended operating pressure | 90 PSI |
| Air consumption | 7 CFM |
| Air Inlet Size | 0.375 inches |
| Impacts Per Minute | 1400 |
| Max torque | 1400 ft.-lb. |
| Max speed | 5500 rpm |
| Drive Size | 3/4 in |
| Width | 3.25 inches |
| Length | 8.5 inches |
| Height | 9.4 inches |
| Variable power settings | 3 |
| Warranty | 2 Year |
| Cost | from $249.00 |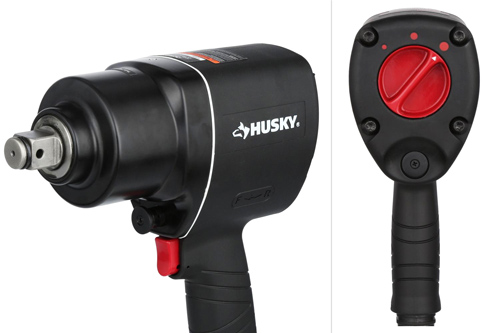 To be able to attain the powerful feature of this tool, you should have at least large 1/2-inch air hose and 3/8″ NPT industrial couplers. It can be widely used in many industries such as automotive repair, heavy equipment maintenance, assembling of products, major construction projects and any other instance that needs a high torque output. It is very dependable tool, which you do not need to exert too much effort anymore when working. Do not use non-impact sockets or accessories usually made of a harder brittle metal on this tool as it will result in fracturing, bending or otherwise damaging the air tool. It cannot withstand the sudden increase of torque and can result in stripping the head of the fastener.
For only $249.00, Husky 3/4 in. Impact Wrench 1400 ft.-lbs. can be accessed in all leading home stores within your locality. Overall, it is an impressive and a very helpful tool for assembly and disassembly in tight places.
*Note: Always use and wear safety glasses when using this air impact wrench as it can generate high-speed shrapnel if a fastener or socket fails.
If you already own Husky H4490 model or just want to buy it, feel free to share your review or ask a question through the form below.