If you're looking for a compact, efficient, and quiet air compressor that can power various pneumatic tools, the Husky 1 Gal Silent Air Compressor may be the perfect tool for you. With its oil-free pump, low noise level, and lightweight design, this compressor offers great features at an affordable price. In this review, we'll take a closer look at the features, performance, pros and cons, and customer feedback of the Husky 1 Gal Portable Air Compressor to help you decide if it's the right choice for your needs.
Husky 1 Gallon Portable Air Compressor( Model #3300113) comes with a number of great features that make it a versatile and efficient tool for DIYers and professionals alike. The compressor has a 1-gallon tank that provides enough air pressure to run various pneumatic tools, and its oil-free pump ensures that there is minimal maintenance required. In addition, this compressor operates quietly at only 60 dB, making it a great option for indoor use.
Here list of features of this 1 Gallon Air Compressor:
Oil-Free Pump: The compressor features an oil-free pump that requires minimal maintenance and provides clean, reliable air for your tools.
Pressure Gauge and Regulator: The compressor comes with a built-in pressure gauge and regulator that allow you to monitor and adjust the air pressure to suit your specific task.
Low Noise Level: The compressor operates at only 60 decibels, which is significantly quieter than most other air compressors. This makes it an ideal choice for indoor use or in quiet work environments.
Lightweight and Portable: Weighing in at only 27 pounds, the compressor is lightweight and easy to move around, making it a great choice for DIYers and professionals who need to work on different job sites.
Multiple Connection Options: The compressor comes with a quick-connect fitting that makes it easy to connect to various pneumatic tools. It also includes a 1/4-inch universal coupler that fits most standard air hoses.
Efficient and Reliable Performance: A Close Look at the Husky 1 Gal Silent Air Compressor
The Husky 1 Gal Silent Air Compressor is powered by a 0.5 HP (horsepower) motor that is designed to deliver reliable performance for various pneumatic tools and tasks. While this motor is not the most powerful on the market, it is more than sufficient for most DIY and professional applications.
This 1 Gal silent air compressor performs exceptionally well given its compact size. While the motor on the Model #3300113 is not designed for heavy-duty industrial use, it is well-suited for light to medium-duty tasks and power various pneumatic tools, such as brad nailers, staplers, and airbrushes, and I was impressed with how quickly it refilled its tank. The compressor was able to run continuously for several minutes before needing to refill, which made all your tasks much more efficient.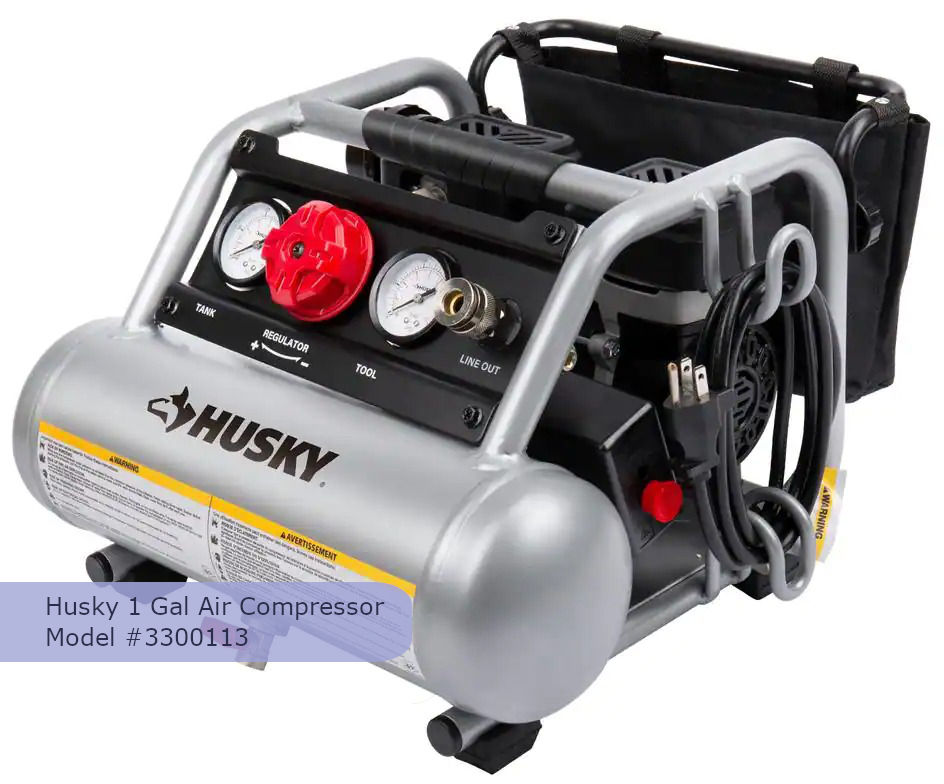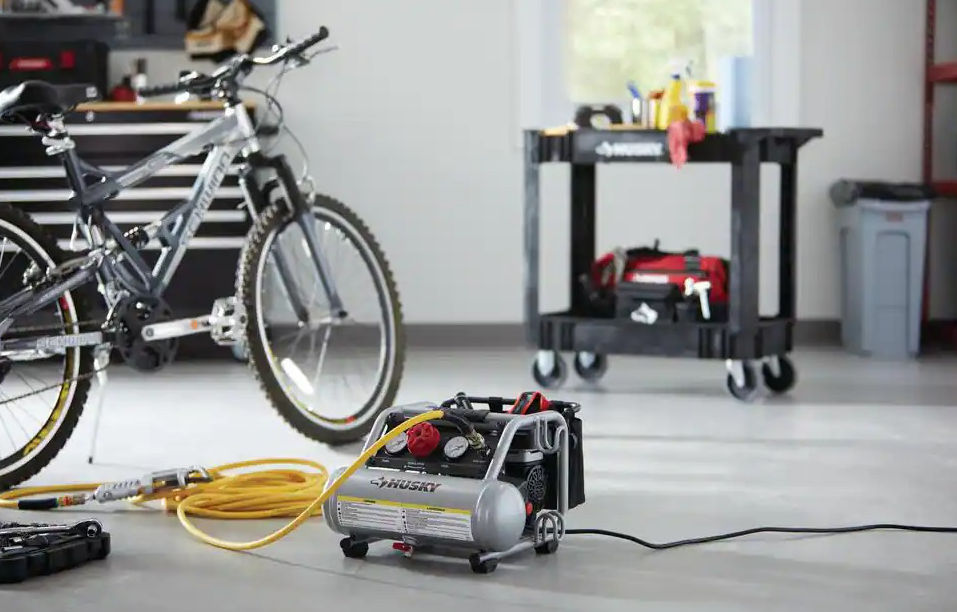 Specifications

| | |
| --- | --- |
| Model # | 3300113 |
| Tank Capacity | 1 gal |
| Weight | 27.1 lbs |
| Type | Portable, Oil-Free |
| Horse Power | 0.5 HP |
| Voltage | 120 Volt |
| Amperage | 2.8 amps |
| Air Delivery | 1.3 CFM at 40psi, 0.8 CFM at 90psi |
| Max Pressure | 135psi |
| Noise Level | 60 dBA |
| Stage Count | Single |
| Width | 15.39 inches |
| Depth | 16.54 inches |
| Height | 10.12 inches |
| Air Tank | Steel, Hot Dog |
| Warranty | 3-Year Limited |
| Cost | from $169.00 |
Customer Reviews
After researching customer feedback on the Husky 1 Gal Silent Air Compressor, I found that many customers had positive experiences with this product. Some praised its portability and quiet operation, while others found it to be a reliable tool for various tasks. However, some customers had concerns about the limited tank capacity and the durability of the compressor over time.
Overall, If you are looking for a portable, silent and efficient air compressor the Husky 1 Gal Silent Air Compressor will be good choice. Its compact size, quiet operation, and oil-free pump make it an ideal tool for indoor use, and its ability to power various pneumatic tools make it versatile enough for a range of tasks.